How To Transfer Website From WordPress.com To WordPress.org
Posted by TotalDC
So you decided to start blogging and found out about free way to start on WordPress.com, but now you feel like you need something bigger, better or simply something that feels more personal and now you want to know how to transfer your free blog to WordPress.org? If you don't what's the difference between WordPress.com and WordPress.org you can read about it here.
Free blogging platforms are easy to start on and great for testing out if you enjoy blogging. But free platforms have a lot of limitations and you don't really own your free blog so if or when you are getting more serious it's a good idea to move your website to a web host and have a self-hosted blog with WordPress.org.
Then keep reading and in this post I will show you how to transfer website from WordPress.com to WordPress.org very easily.
Export Your WordPress.com Blog
First things first, you need to somehow export your blog from WordPress.org since you've already started blogging and don't want to loose your hard work and start from scratch. First go to your WordPress.org dashboard and click on Tools > Export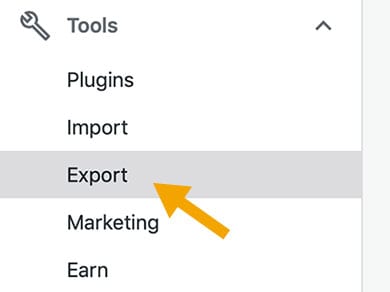 Then click Export All.
And now comes waiting. When your export is done you will see this message.
Now go to you email and download your website files to your computer.
Set Up Web Hosting
To be able to have a self hosted site on WordPress.org you need to get web hosting. In my opinion Hostinger is the best hosting for WordPress by far.
If you're new to hosting and find all the tech stuff intimidating I recommend using Hostinger because they have WordPress specific plans where they install WordPress for you and dashboard with clear instructions for you to follow to make things as easy as possible.
They even gives you a free SSL certificate for you and that is super nice thing because an SSL certificate protects your blogs data, improves trust with your site visitors and Google really likes it.
Choose a Domain Name And Get Started
After you found right host provider and decided which hosting plan to use, you have to choose a domain name. If you were using the free domain that WordPress.com gave you, you can now upgrade to your own proper domain name like www.thisismyblog.com.
When using Hostinger, they will give you free domain name for the first year. So check if your blog's name is available. Best to try and get .com extension and try to keep it short and relevant to your blog topic.
Once you claimed your domain name, it's time to enter some personal details and create your account. Next you can choose how many years of hosting you would like to buy. you will get the best price per month if you pay for 4 years. Then simply add your payment information, create a password for your account. Just remember to create a strong one to be safe. And now you are the owner of a self hosted blog!
Now login to your account and follow simple instructions and WordPress will be installed for you.
Import Free Blog To Your Self Hosted WordPress Blog
In your new WordPress.org dashboard click
on Tools > Import.
Choose the platform from which you are transferring your old blog and click Install Now. This will install an importer plugin.
Next you need to click Run Importer
Click on Choose File and select your XML blog file that you downloaded earlier.
Click on Upload File and import it. Just so you know it might take a few minutes to upload all your files.
Then it will give you the option to assign authors. You can create a new user or assign posts to an existing user.
Select the box: Download and import file attachments to make sure your images and other files are also imported.
Click Submit.
Now you should get a success message to let you know your site has been successfully imported. Congrats, you have managed to transfer your free blog to a self hosted site. Now go and check if all your posts are showing up correctly, if your formatting still looks the same and ir your images are all there (do not panic if links are broken, I will tell you how to fix them later).
Delete The Importer Plugin
You won't need the importer plugin anymore so it's best to delete it so you don't slow down your new site with unnecessary plugins. Click Plugins, select the Importer plugin and delete it.
Redirect Your Old Blog To Your New Blog
If your old blog had a good following or search engine ranking, it might be a good idea to create a site redirect. A redirect will also make sure that all your old Pinterest pins will keep generating traffic to your new site.
There are a few free plugins to help you redirect your site.
The Simple Website Redirect plugin will direct your old URL to your new URL.
If you don't feel confident using a plugin and configuring this, you can use the Site Recirect service from WordPress.com. But it costs 13$ per year to redirect all your blog posts and pages for you.
Last Step. Fix Up Your Internal Links
Another important thing to update is your internal links. Did you add links to other related posts in your old blog posts? Make sure to change all these links to go to your new domain name because you don't want your new site redirecting your visitors back to your old site.
I hope this post has helped you to successfully transfer your free blog to wordpress.org.